Exterior Restoration Specialist
Staff member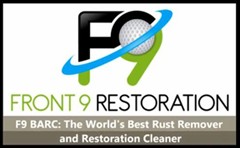 Location:
Savannah, GA.
Price:
FREE!
Date:
March 21, 2018
Follows L&H 2-Day Event March 19th and 20th.
REGISTER AT:
www.uamccevents.com
Destination Hotels:
Comfort Suites Gateway
Address:
596 Al Henderson Blvd
Savannah, GA 31419
Phone:
(912) 920-9499
Average Rate $79
Distance to Event: 4 miles
Holiday inn Savannah Historic District
Address:
520 W Bryan St
Savannah, GA 31401
Phone:
(912) 790-1000
Average Rate $95
Distance to Event: 3.9 miles
Copies of the 1st few chapter of the F9 CookBook: The Expert's Guide to Exterior Cleaning And Maintenance will be available for

$25.00 Cash Only.
Agenda/Schedule:
Join us for a fun, 1-Day HANDS-ON Maintenance Cleaning, Acid Washing, Neutralization, Vertical & Flatwork Rust Removal, Oxidation Removal and Concrete Restoration course which may include water recovery methods.
This Class focuses on many of the following: Hard surface maintenance cleaning (keeping those surfaces cleaner longer with F9 Groundskeeper), hard water stain removal, low speed floor tool applications, vertical and flatwork rust removal, prepping concrete for a concrete coating or stain/seal, covering up surface cleaner marks, blending in damage from wand/turbo tip or deep surface cleaner etching and more!

You will learn the Front 9 Restoration unique approach to restoration and maintenance, which was developed over many years and millions of square feet of cleaning by F9 creator, Craig Harrison. This process is something that can be applied to concrete, bricks, pavers, tile, stone and may other hard surfaces to achieve mind blowing results and separate your company from your competition!

You will learn how to sell battery stain jobs, rust removal jobs, hard water stain removal jobs, commercial sales and more. You will learn how to completely separate yourself from your competitors, increase profits and make your customers say "yes!!"

These techniques are unique to Front 9 Restoration and you will not learn these secrets anywhere else in the world. Learn how to always get your surface cleaner than your competition… and provide a surface that stays cleaner longer!

Copies of the 1st few chapter of the F9 CookBook: The Expert's Guide to Exterior Cleaning And Maintenance will be available for

$25.00 Cash Only.
All hands on hours count toward UAMCC credit hours.
Airport Info:
Savannah/Hilton Head International Airport
400 Airways Ave
Savannah, GA 31408
Airport Transportation:
Uber
Lyft
Please Click
Here
for Registration
Event Details are Subject to change at anytime
Craig Harrison
"Mr. F-9 Rust Remover" is how many people think of Craig Harrison. While running his own pressure washing paver restoration business over the last 15 years, Craig decided that current chemicals just didn't do the job. He became an inventor of his own products to better his own business and now shares them with the world as President of F-9 Restorations
www.front9restoration.com
. They make, test, distribute and teach professionals the art of Preservation Restoration using the latest developments in the chemical cleaning industry.
Jerry McMillen
Jerry McMillen is the owner of
www.Pressurewasher.net
and a manufacturer of Sirocco Reclaim Vacuums. Jerry's clear understanding of environmental concerns, as well as the necessity of reclaim equipment makes him the perfect teacher in this industry. By completing the Wash Water Control Course you are well on your way to earning your UAMCC Certification.
Ron Musgraves
One of the most vital sales strategies for mobile cleaning contractors is getting on a commercial vendor list. Service contractors often wonder why they have no place with larger customers. Inside corporate America systems lay the secrets of becoming a vendor. Without the knowledge of the how, when, and where you will never have a chance with some companies no matter what decision maker you have in front of you. Learn how to get called by the customers instead of you calling them. With over thirty years of experience in the pressure washing industry
Last edited: