Exterior Restoration Specialist
Staff member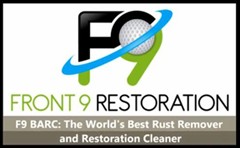 FREE

F9 Training event Featuring F9 Owner and Founder Craig Harrison, along with other top leading industry educators. Yes it's

FREE
Price for 2 day training event: FREE
F9 Cookbook is available for $99.00 Cash Only
Date:

May 9th and 10th
-Location-
City:
Mesa, Arizona
Site:
TBA
Hotel Info:
Phoenix Marriott Mesa


200 N Centennial Way, Mesa, AZ 85201
(480) 898-8300
Baymont Inn & Suites Mesa


651 E Main St, Mesa, AZ 85203
(480) 621-6375
Hilton Phoenix/Mesa


1011 W Holmes Ave, Mesa, AZ 85210
(480) 833-5555
Airport:




Phoenix Sky Harbor


3400 E Sky Harbor Blvd.
​
Speakers:*Craig Harrison; inventor of F9 products and the F9 TEAM, Jerry McMillen of Sirocco Water Recovery Systems, and Ron Musgraves.

This Class is a comprehensive, HANDS-ON Maintenance Cleaning, Acid Washing, Neutralization, Vertical & Flatwork Rust Removal, Oxidation Removal and Concrete Restoration*FULL 2 day course which includes Water Recovery Methods.

This Class focuses on many of the following: Hard surface maintenance cleaning*(keeping those surfaces cleaner longer with F9 Groundskeeper), hard water stain removal, low speed floor tool applications, vertical and flatwork rust removal, prepping concrete for a concrete coating or stain/seal, covering up surface cleaner marks, blending in damage from wand/turbo tip or deep surface cleaner etching and more!

You will learn the Front 9 Restoration unique approach to restoration and maintenance, which was developed over many years and millions of square feet of cleaning by F9 creator, Craig Harrison. This process is something that can be applied to concrete, bricks, pavers, tile, stone and may other hard surfaces to achieve mind blowing results and separate your company from your competition!

You will learn how to sell battery stain jobs, rust removal jobs, hard water stain removal jobs, commercial sales and more. You will learn how to completely separate yourself from your competitors, increase profits and make your customers say "yes!!"

These techniques are unique to Front 9 Restoration and you will not learn these secrets anywhere else in the world. Learn how to always get your surface cleaner than your competition… and provide a surface that stays cleaner longer!

Copies of the 1 hour F9 powerpoint presentation that will be given in the morning, sales techniques, training info, networking ideas and more is available for purchase

All hands on hours count toward UAMCC credit hours.
What to Bring: Notebook and Pen for taking lots of notes
Work Attire: Boots, Gloves, Glasses and Respirator. Most importantly bring a great attitude!*

Itinerary:

May 9th, 2018

8:30*AM
TBA

8:40-9:15*
Ron Musgraves: Sales

9:20-10:15
F9 Power Point

10:30-12:00 Demos:
Grease/Oil Removal, Floor Tool Uses, Battery Stain Removal, Vertical Rust Removal & Hand Rail Oxidation (at Taphouse across the street), Water Recovery Methods, Testing PH
Cleaners used: F9 Double Eagle, F9 BARC, F9 Efflo and F9 Groundskeeper

12:00-12:45 Lunch on your own

1:00-4:00 Demos
Grease & Oil Removal, Floor Tool Uses, Battery Stain Removal, Water Recovery Methods. Hard Water Stain Removal, How to Remove Etch Marks, Prep for Coatings and Seal/Stains.
Cleaners used: F9 Double Eagle, F9 BARC, F9 Efflo and F9 Groundskeeper

Vertical Rust Removal
How to set up an account for maintenance cleaning

May 10th, 2018*

9:00-10:00
Jerry McMillen- Sirocco Vacuums and Bulldog Pressure Washers
Water Recovery and Wastewater Management

10:15-3:00 Demos
Finish up what we were doing from day before
Seal Concrete with Penetrating Sealer
Using Colorants and Enhancing Sealers
How to Tape and Paper
Flatwork Rust Removal and Building Oxidation Removal
Vertical Oxidation Removal/Restoration

3:15-3:45
Expert Panel and Questions
Location: TBA